Android P | Every Thing you Need to Know About Features
Posted by: Vivek Kumar
Android P | Every Thing you Need to Know About Features
Tags: Android application development company, Android Application Development Company USA, Android P, Android P features, application development company, Top Android Application Development, Top iPhone Application Development Company
Google has given Android Developers a taste of Android P, the next major version of its mobile operating system. So, what it is going to be called Pumpkin Pie or Peppermint Patty? Or how about Popsicle? Well, whatever Google ends up deciding on, we're not going to know for sure until the fall. But Google has shared with what features Android P will Come. Here is Everything You need to know about Android P Features.
New gesture navigation
New Google Material Theme
Controls to curb phone addiction.
Improved notifications
Adaptive settings for battery life, screen brightness, and application suggestions
Gestures
Android P Enables a user to swipes up to view recent apps along with the application suggestions. Instead of using a trio of buttons along the bottom of the screen. A new single button will quickly switch between apps.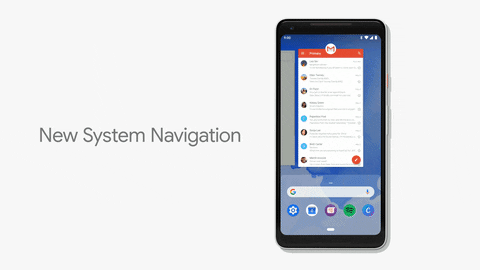 Material Theme
The next feature which is included in Android P is a material theme. This approach is not new to Android or Google, the new theme adds white space and rounded corners.
New Dashboard to curb phone addiction
A dashboard is a new feature that helps track the amount of time you spend on your device. With Dashboard Feature, User will be able to see since how long he is using a phone to send messages, stream content, surf the internet, or even make calls.
With certain apps like YouTube, you can even receive recommendations to take a screen break. You'll also be able to set up screen time limits for specific apps.
It also provides you shush or wind down mode a new Do not disturb tool which automatically activates when you place your Mobile phone screen down on a table or surface.
Improved Notifications
Newly improved notifications will affect most users. Now, from notifications, Google will suggest smart replies, allow you to attach photos and stickers, and type your own replies.
Adaptive Battery and Adaptive Brightness
New adaptive settings for battery and display brightness uses Artificial Intelligence it learns your habits over time and allocates dedicated resources and battery power to the apps you typical open at a given time of day or location. Once it understands your preferences, it can then make the necessary adjustments depending on your lighting conditions.
For example, App Actions will suggest a playlist when you connect Bluetooth headphones.
Additionally, with users, Google also provided some features to Android developers like ML Kit to help Android Application Developers take advantage of the company's machine learning technology on a device. Developer tools for App Actions and a Slices API make it easier for Android Application Developers to integrate deeper into the Android operating system.
Categories
Like Us On Facebook